To navigate to a particular installation, click one of the following:
Our three most popular installations…
Toyota LC200 Series Navigation, Hema 4WD Nav & Caravan Camera
The Landcruiser LC200 is clearly one of the most popular tow vehicles on the road at the moment and this install is one of our most common vehicles we work on.

We setup these vehicles up so they are ready to Tow, including all electrical requirements, aftermarket navigation, Hema 4WD Nav and Caravan Camera Integration.

Here is a vehicle we completed recently, check out the video that shows our integrations systems in action...


The factory GPS on the LC200 is something a lot of owners complain about. It's also expensive to update and your passenger can't make changes while your driving.

We installed our Premium Nav System to give customers the information they need while towing. You can even set your vehicle dimensions which could save your from a low bridge or being sent down a road you can't U-Turn on. Also, it's much cheaper to update.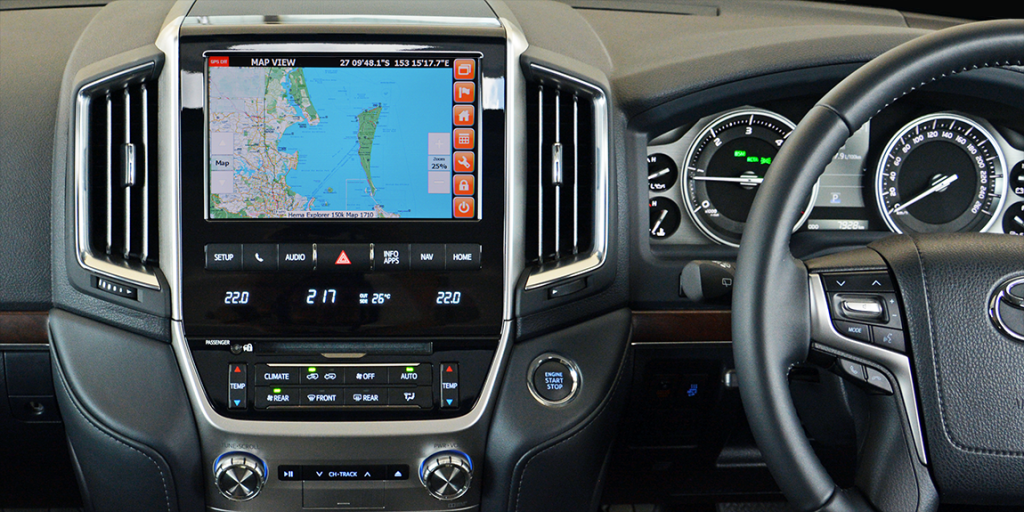 Our Premium Nav was complimented with Hema 4WD Nav. Whether your planning a serious offroad trip or your just touring, the topographical maps provided by Hema add another dimension to your navigation system.

You'll always know exactly where you are and you'll never get lost.
Toyota LC200 Series Power Distribution System
So it was a huge privilege to work along with the guys at Vogue Industries on this beautiful 200 Series Sahara Build. Vogue installed all the external accessories on the build including Bull Bar, Light Bars, Work Lights, Pre Rego Lift, Electric Side Steps, Painted Grill and Black out treatment, Roof Racks with Vogues Rear Ladder and much more.

We had the task of wiring up the vehicle in the neatest and tidiest way. But the challenge was there were no less than 17 individual circuits on this build.

We'd like to show you how we did it.
So that the Engine bay was not littered with relays, circuit breakers and all sorts of fuses, we used the Ultimate 4WD Power Distribution System. The PDS houses all of the required electrical components in one location, and we only connect one cable to the Main Battery and One cable to the Auxiliary Battery.

So if a fuse blows or there is some other problem, its so easy to locate and replace as its all neatly in the PDS Box.
Here you can see the Power Distribution Box neatly installed under the bonnet with its lid off so you can see how easy it is to replace a fuse if required. It also has a charge status light so you know exactly whats happening with the Auxiliary Battery charging.
The Owner decided on a Full River 105 Amp Hour AGM battery that we fitted with an ARB Battery Holder.

As you can see, there is only one terminal connected to the Auxiliary Battery as the Ultimate 4WD Power Distribution System ensures that all electrical components are getting power from the right battery.
The Redarc Charger was neatly installed using Redarc's LC200 vehicle specific bracket and the Solar input is neatly installed under the bonnet so the Auxiliary battery can be kept topped up via a Solar Blanket while your camped up somewhere.
A common challenge on the 200 Series is the lack of spare switch locations. So with so many accessories on this build we needed to install a new switch panel.

We installed the Tow Pro V3 Controller, an Emergency Start Switch so the customer can jump start of the auxiliary battery in an emergency, a switch to lock the electric side steps, dual battery monitor and the switches for both light bars. The spare location is for a Stocklock to be installed soon.
When your pulled up at night the lighting in the back of the 200 Series is not the greatest.

So we installed a Light Force Rok 9 Led light with 50% and 100% switches to adjust the brightness of the light. The switches are mounted in a really nice custom switch panel.
Speaking of the custom switch panel, our customer wanted to maintain the factory look by sticking to Toyota style switches. The switch panel uses Light Force Custom Switches to control an Air On Board Compressor, Tailgate Light and the three work lights.

There is also a 10Amp socket for a fridge, another dual battery monitor and Dual USB Charging for the rear passenger.
We installed our Premium Street Navigation as this customer, like most others, does not rate the factory Toyota navigation very highly.

Our system also includes the ability to integrate a Caravan or Trailer Camera into the factory screen. It can be viewed in Picture in Picture mode (see picture) or full screen while driving forwards.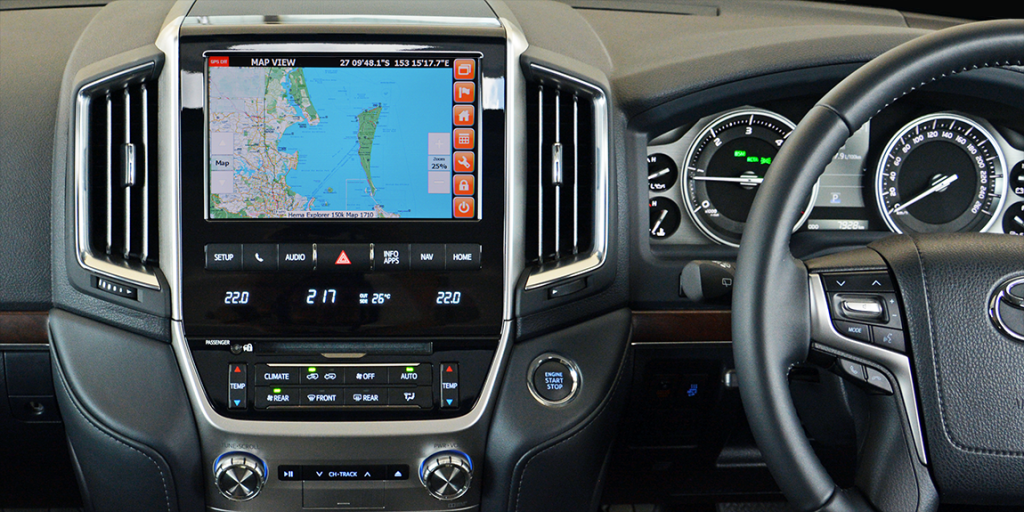 Our navigation override module was also installed so the passenger can make adjustments to the factory audio and phone while driving, eliminating a very annoying feature of the factory Toyota system.

We also installed our Hema 4WD Nav because this truck is built for off-road adventures!
Ford Ranger Caravan Camera Integration
Products Installed: 1321
For this customer we had a fairly common request. He wanted his brand new Ford Ranger Wildtrack setup so that he could view his caravan camera on the factory screen instead of adding an addition screen on the windscreen.

Check out the video to see how this completely plug and play (and easy to install) system works on Ford Ranger and Everest vehicles.

While we had the car in our Workshop installing the Caravan Camera, we were able to completely setup the vehicle for all the Caravan's Electrical needs. We installed three Anderson Plugs on the back of his vehicle along with the required Relays and Circuit Breakers required, all neatly installed in an easy to access location should any servicing be needed.

Whilst we weren't the cheapest, the customer had experienced problems in the past and he wanted the job done right the first time.