To navigate to a particular installation, click one of the following:
Our three most popular installations…
Toyota LC200 Series Navigation, Hema 4WD Nav & Caravan Camera
The Landcruiser LC200 is clearly one of the most popular tow vehicles on the road at the moment and this install is one of our most common vehicles we work on.

We setup these vehicles up so they are ready to Tow, including all electrical requirements, aftermarket navigation, Hema 4WD Nav and Caravan Camera Integration.

Here is a vehicle we completed recently, check out the video that shows our integrations systems in action...


The factory GPS on the LC200 is something a lot of owners complain about. It's also expensive to update and your passenger can't make changes while your driving.

We installed our Premium Nav System to give customers the information they need while towing. You can even set your vehicle dimensions which could save your from a low bridge or being sent down a road you can't U-Turn on. Also, it's much cheaper to update.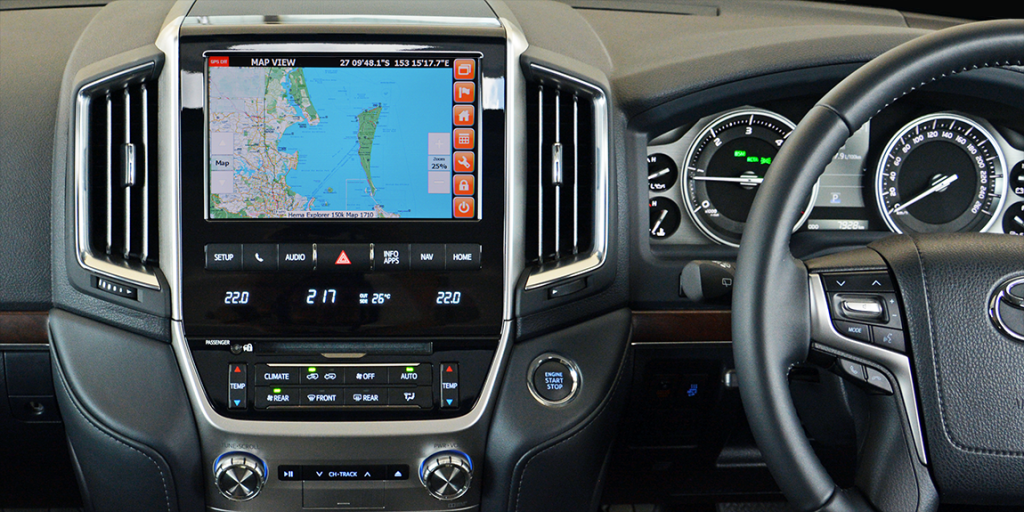 Our Premium Nav was complimented with Hema 4WD Nav. Whether your planning a serious offroad trip or your just touring, the topographical maps provided by Hema add another dimension to your navigation system.

You'll always know exactly where you are and you'll never get lost.
Ford Ranger Caravan Camera Integration
Products Installed: 1321
For this customer we had a fairly common request. He wanted his brand new Ford Ranger Wildtrack setup so that he could view his caravan camera on the factory screen instead of adding an addition screen on the windscreen.

Check out the video to see how this completely plug and play (and easy to install) system works on Ford Ranger and Everest vehicles.

While we had the car in our Workshop installing the Caravan Camera, we were able to completely setup the vehicle for all the Caravan's Electrical needs. We installed three Anderson Plugs on the back of his vehicle along with the required Relays and Circuit Breakers required, all neatly installed in an easy to access location should any servicing be needed.

Whilst we weren't the cheapest, the customer had experienced problems in the past and he wanted the job done right the first time.
3MM Stainless Steel Trailer Bracket
Products Installed: 1442
Mounted to the base of a canopy on a RAM 2500
Mounted on a Chopped Toyota LC200 Series
Left Hand Mounted on a 2021 Ford Ranger
Left Hand Mounted on a 2020 Toyota Prado